---
525 Ontario St. S., Milton, ON L9T 2N2
Phone: 905-693-8820 Fax: 905-693-8166
---
Refrigerator Filters
The Water Store is the only location in Milton which carries Refrigerator Filters for all makes and models of refrigerators
All filters are in stock and ready for pick up when you are

Refrigerator manufacturers recommend filter replacement every 6 months.

Follow your refrigerator manufacturer's instructions according to the Owner's Manual.


All refrigerator filters are specific to each model of refrigerator and are not interchangeable.

Refrigerator filter part numbers may change from time to time and therefore your filter number may not match

any of the product codes below. If you do not see your filter number listed below please contact us for assistance and we will find the filter you require.

All refrigerator replacement filters listed below are in-stock.

All other refrigerator filters not listed here are available by special order and can be in-stock within 2 business days depending on availability.
The Water Store supplies ONLY Original Manufacturer's Filters

No aftermarket knock-offs, no quality issues & no warranty issues
10 Biggest Mistakes
made when purchasing water
treatment equipment and how
you can avoid them.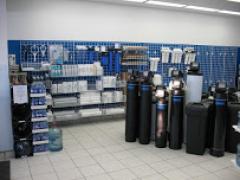 Free Water Test
made when purchasing water treatment equipment and how you can avoid them.
What Our Customers are Saying
When asked about his experience at The Water Store in Midland, Ted said "Good service all the time."...
When asked about The Water Store Midland customer experience, she said "Always a pleasure & delight to visit The Water Store. Pleasant staff who ...
So what do you think of the quality of the water and service at The Water Store? "My wife and cats won't drink anything else. The service is excelle...
"We were experiencing high levels of iron and sulphur in our water here in Norfolk County. We couldn't wash white clothes as they would go ...
What do you like about The Water store Midland, Jonny? "Good water that doesn't leave deposits on coffee maker."...