News & Events
Wed Feb 1, 2012
Water treatment explained in plain simple english!... read more
---
Sat Jun 11, 2011
Residents of the Rope subdivision in Tay Township are no longer under a boil-water advisory... read more
---
Thu Jun 9, 2011
Residents of the Rope subdivision in Tay Township are under a boil-water advisory... read more
---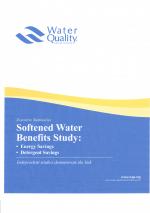 Sat Mar 19, 2011
A study conducted by The Water Quality Research Foundation found that using softened water compared to water of 15 gpg will result inthe following: Instanteous Gas Water Heaters will save over 5% in Energy costs during their life cycle, will save 30% in total operating costs and will require no deliming versus every 2.7 years for unsoftened water of 15 gpg Gas Storage Water Heaters will save over 12% in operating efficiency and over 10% energy cost savings. Savings of 45% of the dishwasher soap to produce the same reults or better Savings of 50% of the laundry soap and energy savings from washing with colder water with the same or better results. Even greater savings would be achieved when compared to harder water!! ... read more
---
Wed Dec 22, 2010
... read more
10 Biggest Mistakes
made when purchasing water
treatment equipment and how
you can avoid them.
What Our Customers are Saying
What do you like about The Water store Midland, Jonny? "Good water that doesn't leave deposits on coffee maker."...
"Every time I come into The Water Store Midland, I feel like a part of the family. Lisa is always positive, smiling and knows everyone by name. ...
When asked to comment on The Water Store Midland, Janna said "Always quick and convenient service with a smile!! Best tasting, purest water I've eve...
When asked about The Water Store Midland customer experience, he said "Great water, great service" ...
What concern did the Peter's have about their water? "Sand, discolouration and poor taste". When asked what happened next on their way to get these ...