525 Ontario Street South
Milton, Ontario L9T 2N2
Phone (905) 693-8820
Fax (905) 693-8166
Store Hours
| | |
| --- | --- |
| Sunday: | 11:00 AM - 4:00 PM |
| Monday: | 9:00 AM - 8:00 PM |
| Tuesday: | 9:00 AM - 8:00 PM |
| Wednesday: | 9:00 AM - 8:00 PM |
| Thursday: | 9:00 AM - 8:00 PM |
| Friday: | 9:00 AM - 8:00 PM |
| Saturday: | 9:00 AM - 5:00 PM |
GoodWater@TheWaterStoreMilton.com
www.facebook.com/thewaterstoremilton
---
Visit the PRODUCTS page for full details of our Products and Services

The Water Store is Milton's Premier Water Treatment and Bottled Water Company Proudly Serving the Water Quality Needs of Milton and the Surrounding Areas Since 2003 - Locally Owned and Operated

SPECIALIZING IN:
Water Softeners

Reverse Osmosis Drinking Water Systems

In Store Bottled Water Refill Centre

Bottled Water - Reverse Osmosis, Spring and Distilled

Refrigerator Water Filters

Iron and Sulphur Filters

Ultraviolet Disinfection Systems

Whole Home Chlorine & Chemical Filtration

Water Coolers

Wide Variety of Drinking Water Bottles and Dispensers

Home and Business Salt Delivery

And Much, Much More.........
FREE WATER ANALYSIS
SERVICE TO ALL MAKES AND MODELS
Visit the PRODUCTS page for full details of our Products and Services
PROUD SPONSORS OF:
Halton GO21 - Halton Walk for Down Syndrome
Conservation Halton - Tree Planting
Halton Children's Water Festival
Rotary Club of Milton - Rotary Auction
10 Biggest Mistakes
made when purchasing water
treatment equipment and how
you can avoid them.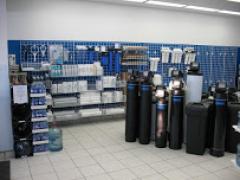 Free Water Test
made when purchasing water treatment equipment and how you can avoid them.
What Our Customers are Saying
When it comes to The Water Store in Midland, Mike says "Friendly helpful service! Keep up the good work!"...
Christine says "For over 10 years we've been enjoying the great customer service and always greeted with a great smile from Lisa and assistance with w...
When asked to comment on the water quality they receive from The Water Store James said "We only wish this system was hooked up to Midland's water sup...
"The Water Store in Midland had the equipment installed before the competition even called me back! Great Service Janice says "we had ve...
"Every time I come into The Water Store Midland, I feel like a part of the family. Lisa is always positive, smiling and knows everyone by name. ...