525 Ontario Street South
Milton, Ontario L9T 2N2
Phone (905) 693-8820
Fax (905) 693-8166
Store Hours
| | |
| --- | --- |
| Sunday: | 11:00 AM - 4:00 PM |
| Monday: | 9:00 AM - 8:00 PM |
| Tuesday: | 9:00 AM - 8:00 PM |
| Wednesday: | 9:00 AM - 8:00 PM |
| Thursday: | 9:00 AM - 8:00 PM |
| Friday: | 9:00 AM - 8:00 PM |
| Saturday: | 9:00 AM - 5:00 PM |
GoodWater@TheWaterStoreMilton.com
www.facebook.com/thewaterstoremilton
---
Visit the PRODUCTS page for full details of our Products and Services

The Water Store is Milton's Premier Water Treatment and Bottled Water Company Proudly Serving the Water Quality Needs of Milton and the Surrounding Areas Since 2003 - Locally Owned and Operated

SPECIALIZING IN:
Water Softeners

Reverse Osmosis Drinking Water Systems

In Store Bottled Water Refill Centre

Bottled Water - Reverse Osmosis, Spring and Distilled

Refrigerator Water Filters

Iron and Sulphur Filters

Ultraviolet Disinfection Systems

Whole Home Chlorine & Chemical Filtration

Water Coolers

Wide Variety of Drinking Water Bottles and Dispensers

Home and Business Salt Delivery

And Much, Much More.........
FREE WATER ANALYSIS
SERVICE TO ALL MAKES AND MODELS
Visit the PRODUCTS page for full details of our Products and Services
PROUD SPONSORS OF:
Halton GO21 - Halton Walk for Down Syndrome
Conservation Halton - Tree Planting
Halton Children's Water Festival
Rotary Club of Milton - Rotary Auction
10 Biggest Mistakes
made when purchasing water
treatment equipment and how
you can avoid them.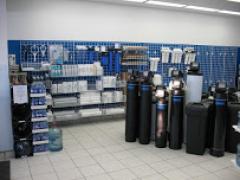 Free Water Test
made when purchasing water treatment equipment and how you can avoid them.
What Our Customers are Saying
When asked about The Water Store customer experience, she said "The service is great, always willing to help me" ...
"My name is Robert Fung and I have a farm in the Township of The Blue Mountains. I have had water issues from my well involving sulphur and iron....
"We will highly recommend Gary and his staff to any future customers. They are very knowledgeable, helpful and courteous. We've only had t...
When asks why Belinda gets her water from The Water Store Midland, she said "Feel better, the healthy way to go."...
Shelley, tell us why you like The Water Store Midland .. "It's very convenient - not on a busy street and big difference in this RO water as opposed t...