---
525 Ontario St. S., Milton, ON L9T 2N2
Phone: 905-693-8820 Fax: 905-693-8166
---
Heat Guard Cooling Ties and Pads
BEAT THE HEAT !!!
Do you get overheated? Suffer heat stress, headaches, hot flashes or heat related irritability? Do you work outside in the heat or in a hot work environment? Do you get overheated working out, golfing or gardening? Looking for a fast effective way to cool down, stay cool and feel better? Look no further!!

Hot weather can be tiring for the whole family. We all know it is more important and more difficult to cool down than to warm up. Finding relief from the heat and heat related disorders and cooling down can be a challenge.
Heat Guard Cooling Ties, Pads and K9 Coolers are the very simple and stylish answer to beating the heat. MADE IN CANADA with 100% COTTON these ties and pads contain water absorbing polymer crystals which absorb water up to 400 times thier own weight. This water is then slowly released onto the fabric through evaporation keeping you cool for a full day or more, no refrigeration required.

100% COTTON
MADE IN CANADA

10 Biggest Mistakes
made when purchasing water
treatment equipment and how
you can avoid them.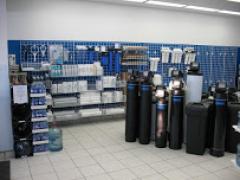 Free Water Test
made when purchasing water treatment equipment and how you can avoid them.
What Our Customers are Saying
"When I first heard Gary's tag line "BUY A FILTER OR BE A FILTER THE CHOICE IS YOURS" it really made me think about what I was dri...
September 2013 After moving to the Midland area it didn't take long to find out the town suffers from hard water. After flushing everything w...
When asked about The Water Store Midland customer experience, he said "The water is perfect & the service is excellent!" ...
At The Water Store Midland as George says is "Great service, good varieties and pleasant conversation." ...
When asked to comment on The Water Store Midland, Karen said "Best water, best service since day one"...