---
525 Ontario St. S., Milton, ON L9T 2N2
Phone: 905-693-8820 Fax: 905-693-8166
---
Service to All Makes & Models
The Water Store will service, maintain, inspect and repair all makes and models of water treatment systems. Call us today and let The Water Store service professionals ensure your systems are running at peak efficiency, your water is the best it can be and your investment is protected.

The Water Store services all makes and models of water treatment equipment:
- System Inspections
- Regular Maintenance
- Filter Changes
- Ultraviolet Lamp Replacement
- Service & Repairs
- Water Testing

Everyone knows that to protect your investment in your car you need to keep it maintained and in excellent repair. Well the same is true for your water treatment equipment. We can help you determine how best to maintain your current equipment, we supply and install routine maintenance items such as Ultraviolet lamps, Filter Cartridges, Salt and Water Treatment Chemicals. No matter where you purchased your equipment we would love to help. Also, based on your water chemistry and the age of your equipment, we can determine what steps you can take now to maximize your return from your water treatment investment to help keep your current system operating.

Regardless of the water treatment system you have we can help. Contact us today !!

10 Biggest Mistakes
made when purchasing water
treatment equipment and how
you can avoid them.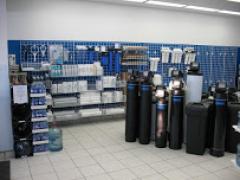 Free Water Test
made when purchasing water treatment equipment and how you can avoid them.
What Our Customers are Saying
When asked about The Water Store Midland customer experience, he said "Excellent Service" ...
Ted said as a Water Store Midland customer always "Good products along with good service all the time." ...
"Wonderful 4 years of excellent customer service, providing an amazing product my family can trust and enjoy. Thank You!" to The Water Store, Jason ...
"Mr Beutler visited our home, tested our water and explained the hard water situation in Midland. The water softener was installed very promptly...
Malinda says at The Water Store Midland is "Great water & service" ...