Water Softener Benefits Study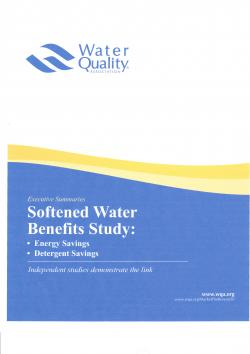 A study conducted by The Water Quality Research Foundation found that using softened water compared to water of 15 gpg will result in the following:
Instanteous Gas Water Heaters will save over 5% in Energy costs during their life cycle, 30% in total operating costs and will require no deliming versus requiring deliming every 2.7 years for unsoftened water of 15 gpg
Gas Storage Water Heaters will save over 12% in operating efficiency and over 10% energy cost savings.
Savings of 45% of the dishwasher soap used with equal or better results
Savings of 50% of the laundry soap and energy savings from washing with colder water with the same or better results.
10 Biggest Mistakes
made when purchasing water
treatment equipment and how
you can avoid them.
What Our Customers are Saying
Richard, why do you get your water from The Water Store Midland? "Have not trusted the town water for years and have used The Water Store water for 10...
Ted said as a Water Store Midland customer always "Good products along with good service all the time." ...
When asked about The Water Store Midland customer experience, she says "I enjoy knowing I'm getting the cleanest water in town. Great friendly service...
When asked about The Water Store in Midland, Karen said "Lisa and staff are so friendly and so helpful. This store is so convenient for us and refill...
Faye says "For good and friendly service go to The Water Store."...