---
Water Softener Sale Midland Ontario October 2018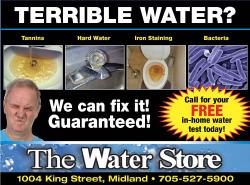 Water Softeners! Iron and Sulphur Filters! Reverse Osmosis Drinking Water Systems! UV!
Do you have concerns about your water? Check out our ad that wraps the October 11 Midland Mirror newspaper then head down to our store at 1004 King Street for expert advice, cool products and save hundreds of dollars on items just like these! But hurry because the sale ends November 2, 2018!. You can see the flyer by following this link. We'll see you there!
10 Biggest Mistakes
made when purchasing water
treatment equipment and how
you can avoid them.